In my last post (Introduction to DotNet Pretty) I mentioned that I would be added more visualizers to DotNet Pretty soon
. Today I finally managed to get around to that and added some visualizers for TFS Work Items.
3 new visualizers were added 2 debugger display visualizers and 1 debugger visualizer. The first is for Microsoft.TeamFoundation.WorkItemTracking.Client.WorkItemType and just displays the Name of the Work Item Type

The next one added was for Microsoft.TeamFoundation.WorkItemTracking.Client.WorkItem and that displays the Status, Id and Title of a work item which is awesome for viewing the results of a query during debugging
.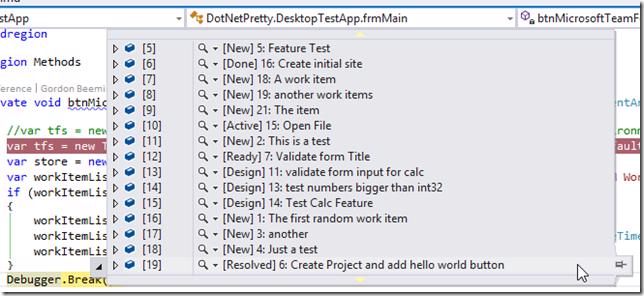 Now having the above is very useful but drilling down into fields was a nightmare so I decided to create a nice visualizer for Work Item which would show you the work item on a form as it would be inside Visual Studio. You simple click the little arrow next to the value and then click on View Work Item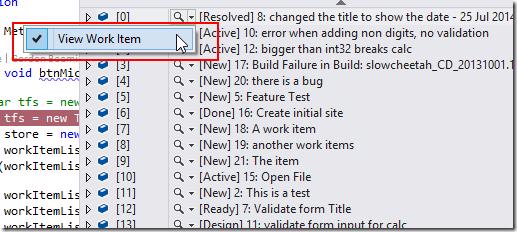 and then you will notice that your life has just been changed
. Any links you click on from within this window will open in the web access and not in another dialog as you might expect.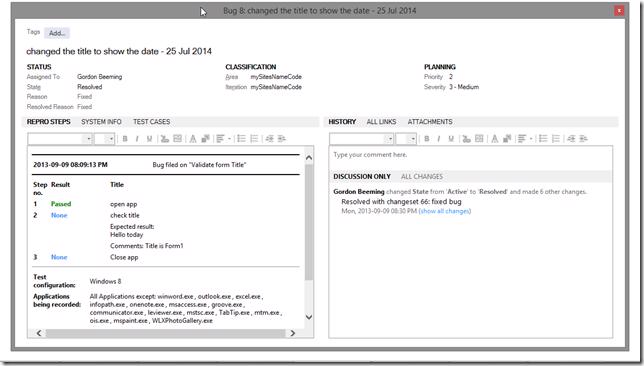 This work item will show as it is at the current point in the code to the best of the visualizers abilities
, in the case above I altered the title just before I opened the visualizer and it kept it's new value as expected
.

I have tested this on both On Premise TFS and Online with VSO. The On Premise version did give an issue about COM which I'm hoping is just an issue on my machine/instance but will investigate anyway

I know this is going to help me speed working with the TFS API and I'm hoping it's useful to others as well
.